SOCIAL MEDIA
So I think I'm in love with the Shokupan recipe from @dreamsofdashi. Googled the recipe after seeing @kenjilopezalt 's post. I used King Arthur's Special Patent flour and this is how it turned out. So pleased! Although I could have waited until it cooled completely to cut into it. Love the toned down sugar, the level of saltiness, the firm crust and fluffy crumb of the bread. I had a slice spread with unsalted butter and sprinkled with smoked Maldon, then spooned some pork floss over the rest of it. Happy! Next time I'll just make one big loaf instead two little ones.
These mala big intestine noodles are really quite wonderful. I was a bit apprehensive when ordering it because it isn't easy to cook these innards well, but they turned out tender and delicious. The noodles are smooth and firm. The stall is above the Bishan bus interchange #chinesenoodles #braisedintestines #malanoodles #spicyfood #foodporn #foodstagram #foodgasm #igfood #instafood #foodcritic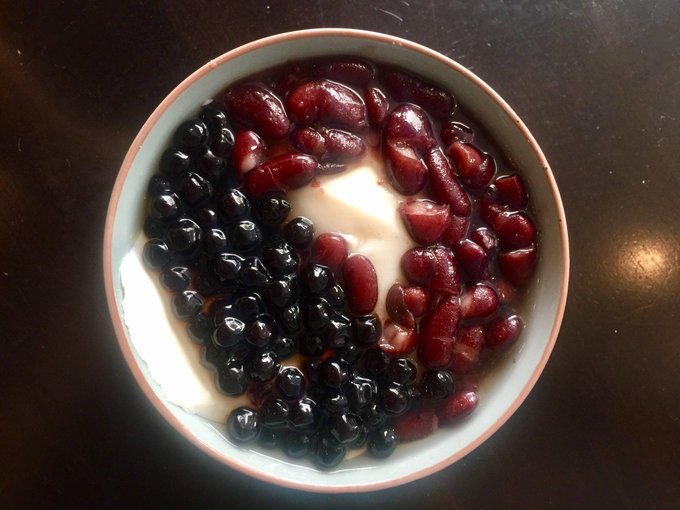 Cooling off with tau huay topped with red beans and pearls. Head to Bean House at Sunshine Place for some homemade goodness.
#cheapandgood
#straitstimesfood
#stfoodtrending
#foodie
#desserts
#supportlocal
#sgfood
t.co/4sneRatjPm
Teochew Porridge Buffet at home. Braised pork made with fei ji rou which I bought some time back for making char siew but was too lazy to cook. Added pig skin. It made the master sauce so wonderfully collageny and sticky. Braised tau kwa and tau kee. Braised salted vegetable cooked in pork lard. Stir-fried spinach. Salted eggs and canned braised nuts. A special dish of see hum with Thai basil. . . #cockles #seehum #teochewporridge #alacartebuffet #homecooking #simpleeats #heritagefood #igsg #igfood #sgfood #straitstimesfood
RECIPES
SWIG
RESOURCES